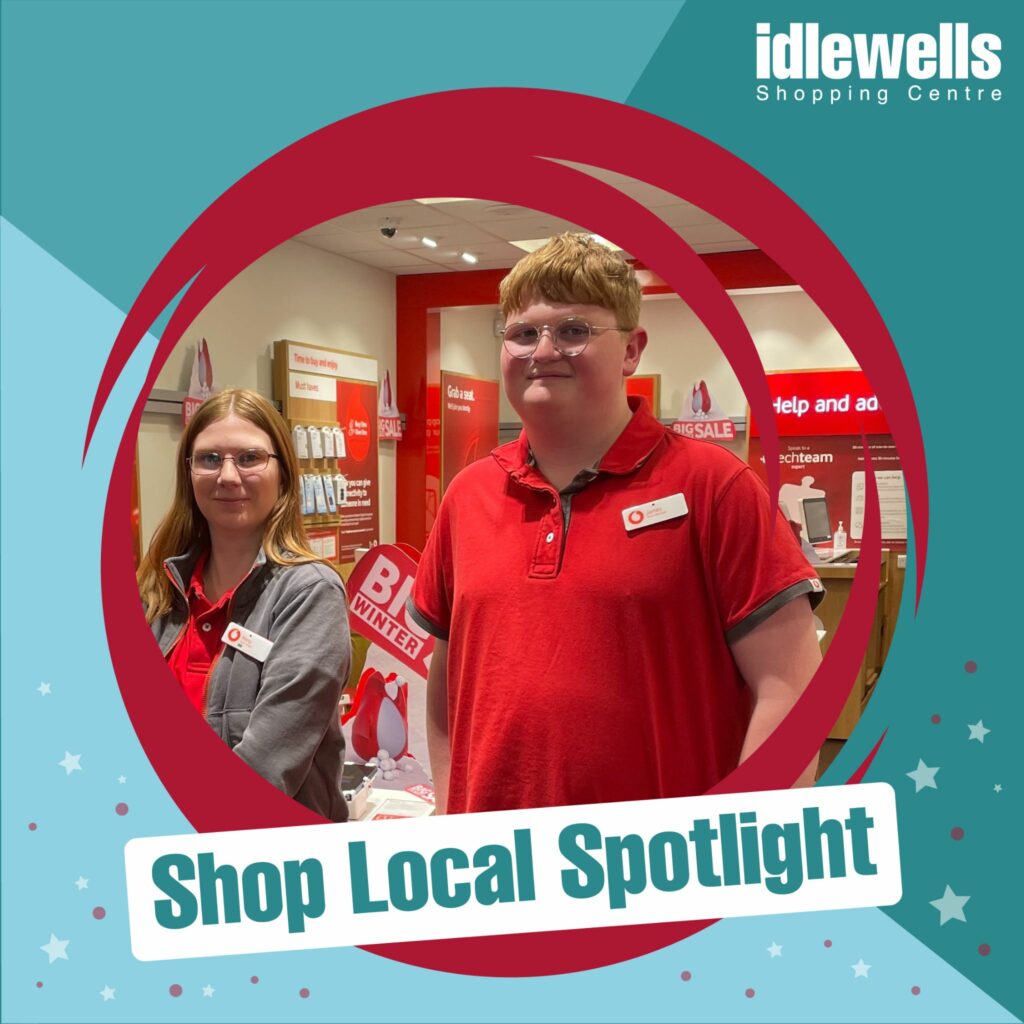 What is your name and role at Vodafone?
My name is James and I am the store manager at the Vodafone Idlewells branch.
My name is Nicky, and I am one of the Sales Advisors at the Vodafone Idlewells Branch.
How Long have you worked at Idlewells?
James: I started my journey in the Idlewells working for Vodafone in October 2021.
Nicky: I started working at Idlewells in April 2022, as a Mobile Phone Repair Technician/Sales Assistant at the Top Gift stall, just outside vodafone. In August I officially started working for Vodafone, and have been here ever since.
What do you love about Vodafone?
James: Working for Vodafone over a year now has allowed me to develop a passion for the company, as well as the people I work with. Since the beginning, I have always loved the brand and what it offers for its customers. It's great to see how Vodafone have practices in place for everyone including the vulnerable and elderly members of society which sometimes visit the Idlewells store.
Nicky: One of the main things I love about Vodafone, is the people I work with, even before I started working here, the staff made me feel welcome, by popping out to the Top Gift stall, and talking to me. I Love the fact that no day or customer is the same, everyone comes in with their own wants/needs, along with stories to tell. I appreciate the fact that they have provided us with training, on how to help those who are vunerable in the community, and they keep it throughout the company, not just in the store. The company as a whole, shows great interest in helping out every member of the community, in whatever way possible.
What is your best memory from your time at Idlewells?
James: I find Vodafone a great company to work for, but being based in Idlewells makes this even more enjoyable. Myself and my colleagues always keep up to date with the events held by the centre, and particularly enjoyed the day time event where dinosaurs ran through the shopping centre.
Nicky: I would have to say that my favorite memory from working here, has to be when they had the dinosaur day. Especially when they started walking the dinosaurs round the shopping centre.
What is your favorite phone and why?
James: My favorite handset is the iPhone 14 Pro Max, the latest installment from Apple featuring a great camera as well as many other features. I have always been a fan of Apple phones, although I have always said that if I made the jump to Android then I would definitely explore some of the Google Pixel options.
Nicky: My favourite phone is currently the S22 Ultra, the main reason being the screen is the perfect size, and the fact it comes with a little pen so you can take notes, it is an amazing feature. The camera on the phone is also fantastic, you can get really clear close-up shots, and the phone itself runs smoothly.
What would you like the people of Sutton-in-Ashfield, to know about Vodafone Idlewells?
James: I believe going to a phone shop can be overwhelming for some, so I'd love the people of Sutton-in-Ashfield to understand that we are a small friendly team, always on hand to help with sales and service queries. We are always happy t greet our customers with a smile, and treat every customer the same. We have policies and skills in place to deal with vulnerable customers needing extra support, as well as executive business clientele.
Nicky: I would like the people to know that everyone in the store is warm, friendly and welcoming. We will do what we can to help out with any issues that you may have. With it being a small team, and a quiet store, this helps us make our interactions more personal, and we can cater to customers, more than one of the busy stores. We also don't just do phones for personal use, one of our business advisors would be able to help arrange a business plan.