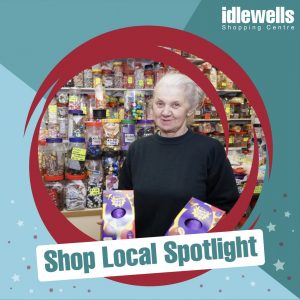 Meet Deb!
What is your name and your role at Morgan's Sweets?

Deborah Moore & Shop Proprietor
How long have you worked at Idlewells Shopping Centre?

We will have been in the shopping centre 3 years in October
What made you want to open your own sweet shop?

I decided when I was 6, I wanted to work in a sweet shop and started this as a Saturday girl at 15.
If you could only eat one sweet for the rest of your life, what would it be?

If I was allowed only 1 sweet, a hard choice, but my pick would be Shrimps!
What is the most unusual sweet you sell?

Rainbow Whirl and Almond Cubes have been the hardest to source.
What is your favourite memory from working at Idlewells Shopping Centre?

The recent Night Light event with the drummers. It was great to see the centre so full of families. We have built up some very friendly and loyal customers. Some families have been coming to us for over 20 years from when we started trading on the outdoor and indoor markets and moved to our shop on Portland Square. Some of the customers who came to us as children are now bringing their children into the shop! I'm also very thankful for the excellent support from previous Centre Manager, Chloe O'Donnell.