We've implemented a range of measures to combat COVID-19 as a number of our non-essential stores prepare to reopen their doors from Monday 15th June in line with the latest government guidelines.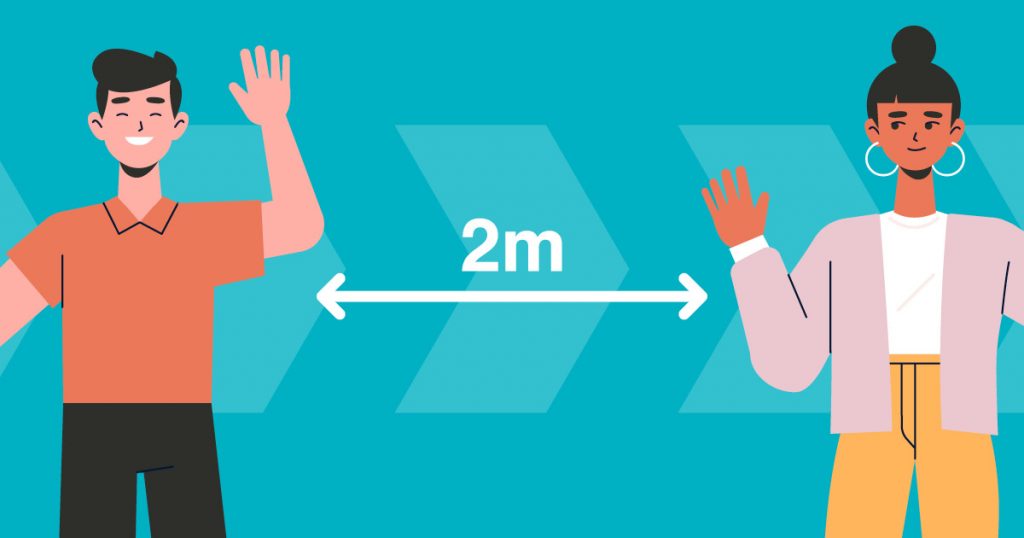 We have already imposed a number of measures which came into force during lockdown – including queuing markers for essential shops, upgraded cleaning regimes and a one-way system throughout the centre. Footfall is expected to increase with the news that non-essential stores are reopening their doors from Monday 15th June and procedures are now being heightened in order to maintain a safe shopping environment for the local community.

This includes opening all entrances to the centre along with the car park, with security staff restricting numbers at each entrance to maintain social distancing. Each store will have its own queuing system with 2-metre floor markers and hand sanitiser will be available upon entering Idlewells and the majority of its shops – with store staff asking customers to apply it before entering.
All retailers within the centre have conducted their own risk assessment and will implement control measures specific to their business. Shoppers can expect to see plastic screens at till points separating staff and shoppers. In some instances, some retailers will be serving customers directly from the store entrance, establishing click and collect points or offering timed appointments for shopping.
Toilet facilities will remain closed and lifts will only be accessible for wheelchair or pushchair users in the interest of health and safety. Customers will also be required to keep to the left when using staircases and walking through the malls and the central atrium – with a strict one-way system in place and to allow for safe movement around the centre. Shoppers will be able to refer to newly installed signage at various touchpoints to remind them of the measures in place.

Our Centre Manager Chloe O'Donnell is delighted with the speed with which the team has managed to impose these new measures and prepare Idlewells for returning shoppers. As she goes on to explain, the centre team and its retailers have taken all the necessary steps required to make Idlewells a safe place for people to shop.

"Throughout lockdown and as restrictions have started to ease, we've continued to adapt our measures in line with the latest government and Public Health England advice – providing the safest environment possible for the local community. I must thank everyone that's shopped with us during lockdown for their continued cooperation as we've adapted to the new normal,"

Not all stores at the centre will reopen from 15th June, with some non-essential shops and the majority of food and drink venues remaining closed. Chloe is urging customers to pre-plan any visits, be patient when shopping and remain aware in order to continue to minimise unnecessary risk.

"If people are visiting for a specific shop then we ask them to check our website and ring in advance for information about which stores are open. A range of FAQs have also been added to our website for answers to specific queries,"

"If people feel ill either before or during a visit to the centre and suspect they have symptoms of COVID, then we politely ask them to remain at home and self isolate to avoid spreading the virus," "Our team is on hand in the centre and will be wearing high visibility jackets if anyone needs assistance. We do ask visitors to be patient and to please follow the queuing and social distancing guidelines in order to maintain a safe environment for everyone. For those wanting to avoid queues during peak times, we recommend visiting after 2 pm because this tends to be our quietest period,"
As well as all the information available prior to visiting and the support available within the centre, several additional measures are in place to further increase safety as the centre becomes busier, as Chloe explains.
"Contactless payment is being encouraged in stores where possible to reduce transmission of the virus, with the spending limit increased to £40 in most shops. Our car park machines also accept contactless payment methods, so we ask people to use this unless they have no alternative. We've also invested in a fogging machine to sterilise public spaces. It is effective against all enveloped viruses and numerous strains of coronavirus – including COVID-19,"
She concludes, "All of these measures are part of our ongoing commitment to shoppers. I and the team continue to monitor the latest advice to ensure that Idlewells remains a safe place to visit for the community of Sutton-in-Ashfield and we thank customers for their patience as we all adapt to the changing world around us."