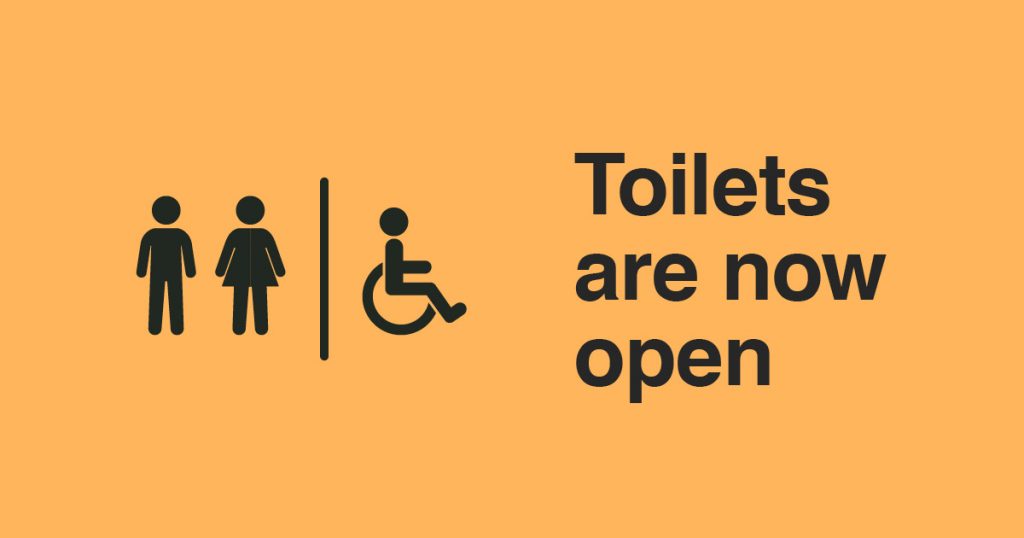 Following their temporary closure for several months to ensure the safety and wellbeing of visitors during the coronavirus outbreak, we are delighted to announce that our toilet facilities are now open to the public.
Size and space restrictions prevented safe social distancing within our toilets during the strictest lockdown measures which resulted in them temporarily closing in late March to maintain visitor and staff safety.
Our disabled toilets have been open since 15th June, for emergencies only, but with heightened safety and cleaning measures now in place, we're delighted to be able to reopen all of our toilets to make the centre more accessible for visitors – as Centre Manager Chloe O'Donnell goes on to explain.
"Anything we can do to make our visitors feel more at ease is worth doing. We want people to feel as comfortable as possible when they visit and not have to worry about certain facilities not being available should they need them. Our heightened cleaning regime means that we can keep on top of hygiene in public spaces throughout the day and ensure that the toilets are always safe for people to use".
We kindly ask all visitors to be mindful of social distancing when using the toilets and to wash their hands thoroughly for at least 20 seconds after use. We also recommend wearing a face covering when using the toilets because of the enclosed space.
Our main toilets will close one hour earlier than usual to allow our team to carry out a deep clean at the end of each day. Our staff are doing all they can to keep the centre running smoothly so please bear that in mind when you see them and remember to be kind at all times.
We can't wait to welcome more of you back in the centre and look forward to seeing you soon.
The Idlewells team.
For more information about the measures we have in place, visit our FAQs: https://www.idlewells.co.uk/news-events/frequently-asked-questions/