Hello Sutton in Ashfield! We're your Vodafone team here in the Idlewells shopping centre.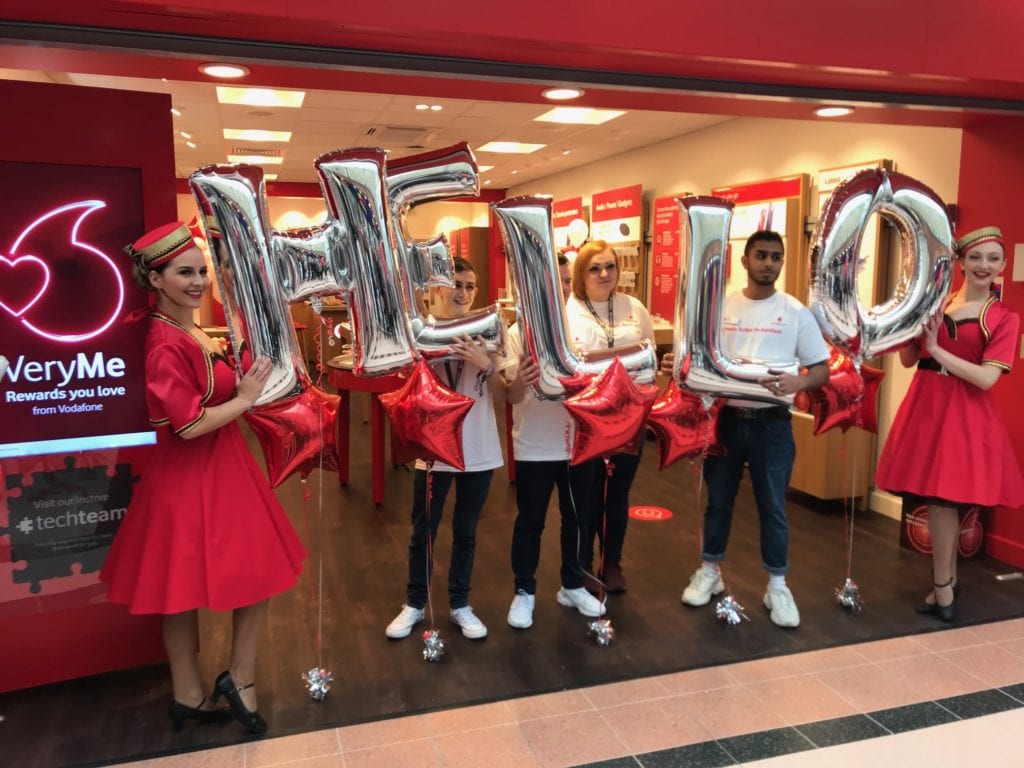 We're here to give you the best possible customer service we can and to make sure you leave fully satisfied and happy, no matter what you have visited us for.
We are now part of a small group of stores that are independently owned but lucky enough to be supported by the fabulous Vodafone brand. We want to make your experience memorable and enjoyable.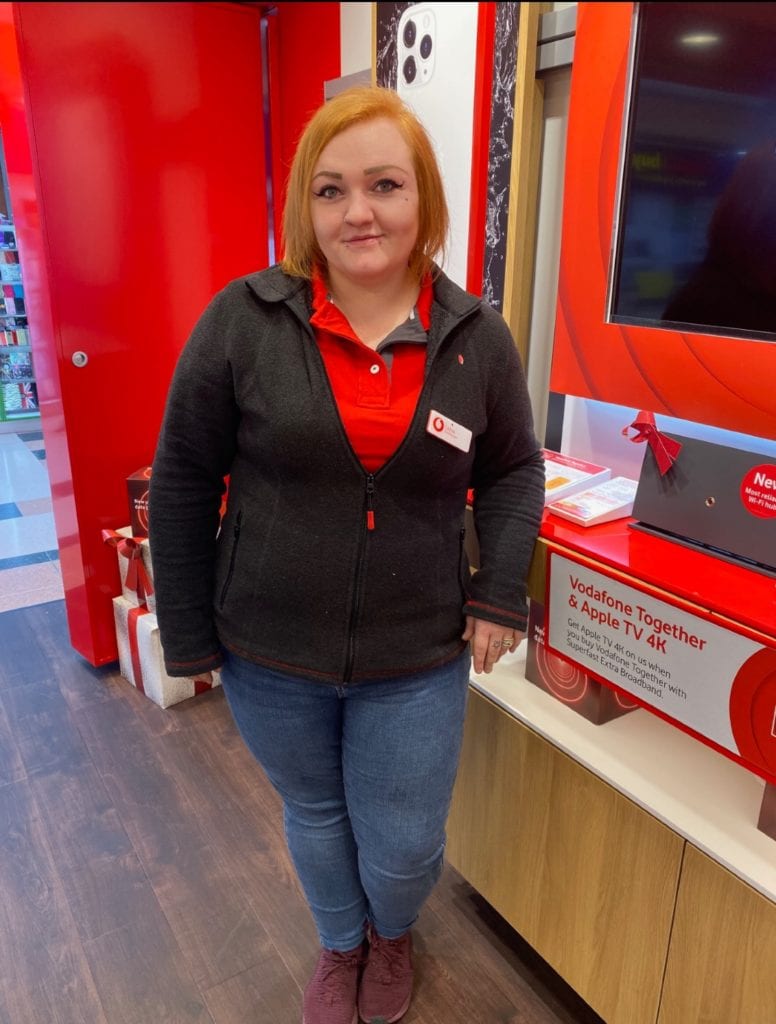 Leeza – Hi, I'm Leeza, Vodafone Store Manager. You may recognise me? I used to work just across the way from our lovely new Vodafone store for another mobile network, but let's not talk about that now ?
This Christmas, entertaining my family will be a big part of my festive time off. So my favourite product is the wonderful Vodafone Unlimited plans; with the option of some fantastic entertainment add-ons. You can't beat them! Find out more on these later!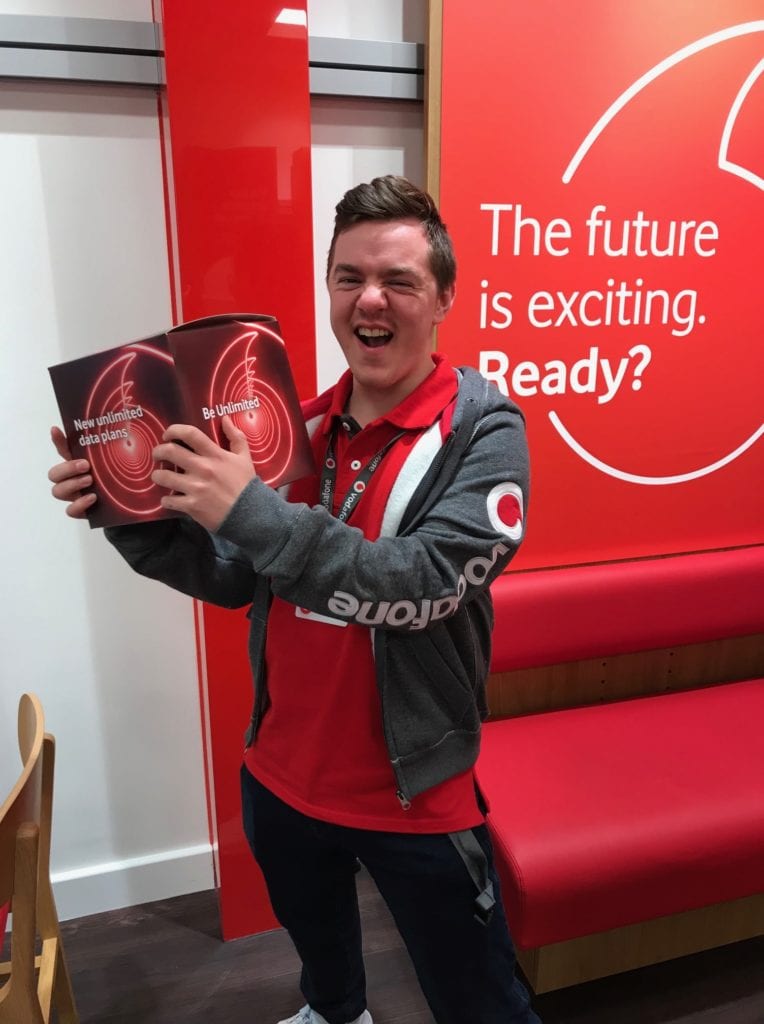 Konnor – Hey, I'm Konnor with a K! I joined Leeza and the team right at the start of this amazing opening and I'm enjoying every minute of it! I absolutely love keeping an eye on what everyone's up to over the Christmas period! My favourite Vodafone product this Christmas is the multitracker. One of the connected products we offer here in our Sutton In Ashfield store, that allows you to know where your most valuable possessions are all times from the convenience of your mobile device.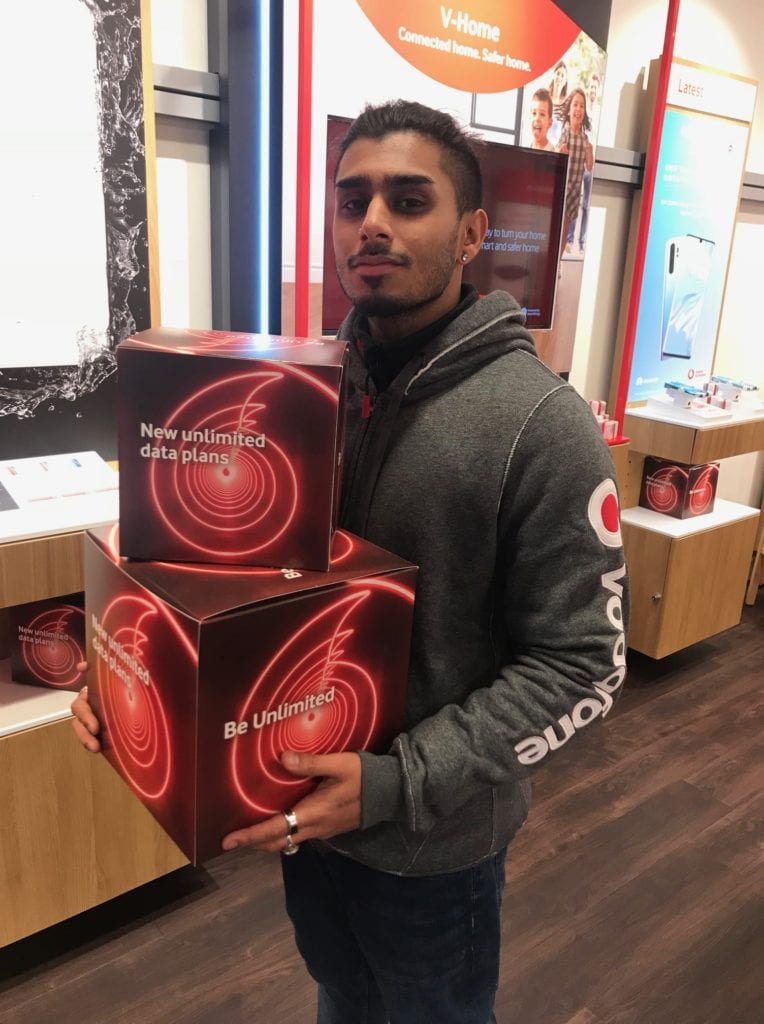 Jay – Hi everyone, I'm Jay, a name that's easy to remember with charm you'll never forget after popping in to see me! My favourite product this Christmas is the affordable Home Services that we offer here at Vodafone. Most people have Wi-Fi, and I feel like it's a necessity in my life. I listen to loads of music, stream loads of films and TV on my phone, especially now that we have launched our new Apple TV proposition.
Fraser – Hi! I'm Fraser, I look like I'm on work experience and that I should still be in school, but I assure you that I'm old enough to work here! I love being part of this team; I love technology and bringing these amazing products to life! My favourite product is our new Apple TV services in conjunction with our Broadband. It's convenient for me as I love to watch Netflix, Now TV, and Amazon Prime, plus play games on my mobile. Apple TV gives me the ability to watch all of these in one place, with the added bonus of 4K HDR quality!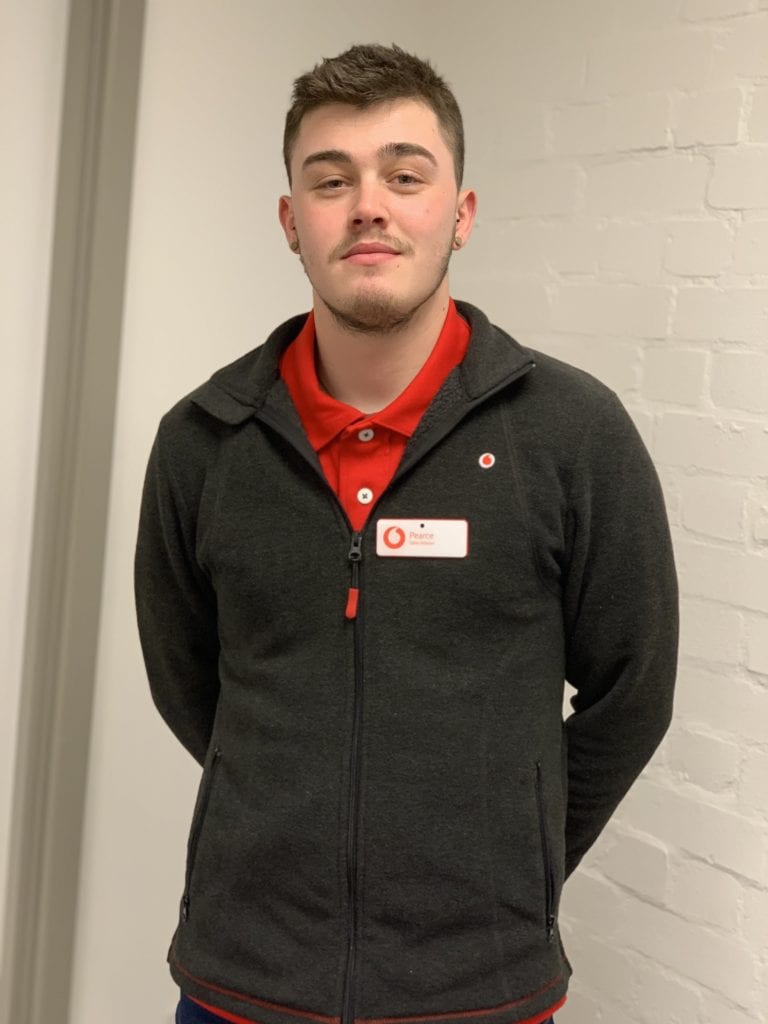 Pearce – Hi everyone, I'm Pearce! I'm the latest team member to join the lovely bunch at Vodafone Sutton in Ashfield! I love learning lots about Vodafone and all the brilliant products we offer, I particularly love the SOS band we offer here in store. It gives me peace of mind knowing that if my loved ones are in any distress the SOS band will automatically contact me so I can assist them!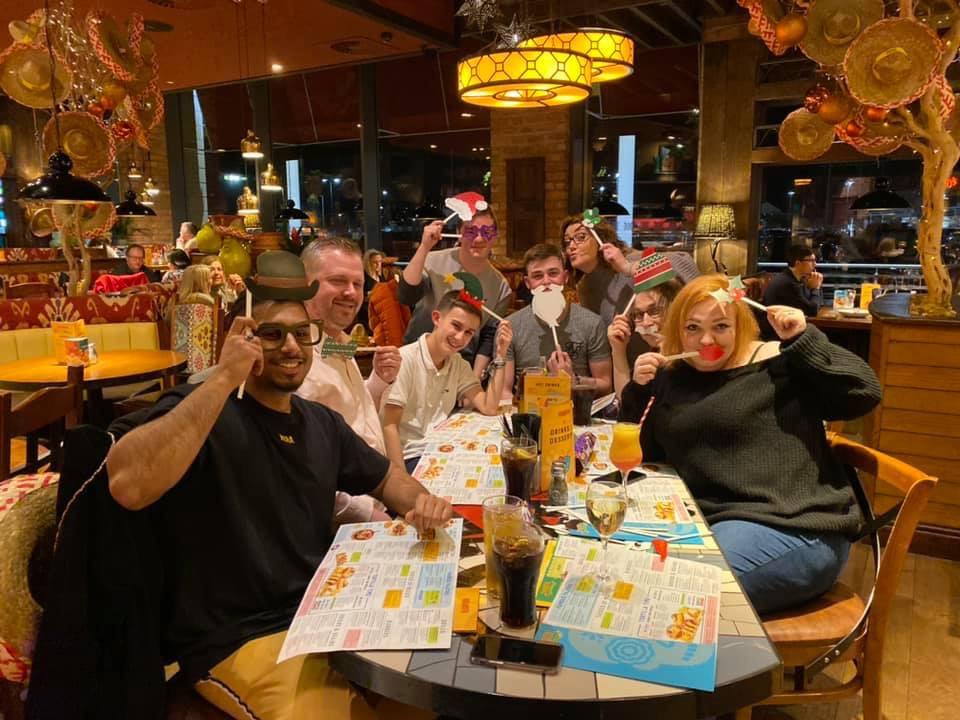 This Christmas we've outlined some of our favourite products available in-store!
Samsung Galaxy S9
We currently have a brilliant deal on the Samsung Galaxy S9. From only £24 a month with a £9 upfront cost. This gives you unlimited calls and texts with 5GB of data and for an extra £2 a week you can choose one of our unlimited data plans and never worry again about running out of data – wow! (Unlimited data plans from £32 a month). This offer is only with us for a short time so drop by and we can tell you more.

Tech Support
Are you scared about losing all your precious memories from your phone? Then fear not! We offer a £25 tech support service here at Vodafone where we make sure everything gets transferred over to your new device worry free. It roughly takes about 30 minutes but we can book you an appointment and dedicate the time to you to make sure we've done it all for you. Simple! And we'll even make you a cuppa, or hot chocolate whilst we do it for you.
Don't want to stay in the store? We'll take care of the data transfer whilst you finish your shopping!

Kids watch
A smartwatch built for kids. Fun and friendly design, your kids can send voice notes and play games – lots of fun for them whilst giving you peace of mind using GPS tracking to see their location from the convenience of your device!
The best thing is that we provide 3 months service if activated before the New Year, perfect!

Apple TV & Broadband
We are very excited to announce that now, not only do we offer superfast broadband from £23 a month, we now have the brilliant 4K Apple TV service readily available with 12 months Apple TV+ on us!
Sound exciting? Come in to find out more!

SOS Band

Need peace of mind for a vulnerable family member? We offer a brilliant product that does just that!
Our SOS band will automatically detect a fall and send a notification to your device. The SOS band has an emergency button that can be triggered with a simple press alerting up to four family members. This product is easy, comfortable and reliable with up to 1 month's battery life.

VA Discount
We are proud to offer a 15% discount on pay monthly mobile and sim plans to many companies across the UK! Including the NHS, Police Force, B&M and Sports Direct to name but a few.
Want to find out if you're eligible? Pop in store to find out more!
Home Security

Home security is such an important part of day to day life for so many people. We have a brilliant package available in which we offer a starter kit containing a Samsung smart hub, smart camera, multipurpose sensor and a siren. All of this can be monitored from the convenience of your phone and gives that peace of mind that your home is secure. The kit is currently on offer at £49 and then £8.99 a month with the service pack – perfect!

Connected products

We are not just a mobile network! We want to connect your whole world with technology.
We offer a whole range of products including both android and apple tablets, with data meaning they can be used wherever you go!
We also offer both Samsung and Apple watches, linked with one number meaning if you forget your phone, or can't use your phone at work, you can still receive calls, texts and notification on your watch.
Come in to see these in action!

Entertainment Packages

As well as a diverse range of tariffs that we explore and tailor to your individual needs, we also offer some great inclusive entertainment services on your package. The options are Sky Sports Mobile, Now TV Entertainment, Amazon Prime Video or Spotify music; the choice is yours!
Family Discounts

We love being able to keep you connected, and in touch with the things that are important to you! With this, we can offer you a 15% discount on additional products you take with us, whether that's a tablet for yourself or a new phone for your spouse or children – the possibilities are endless, come find out what we can offer you!
Merry Christmas!

All of us here at Vodafone Sutton in Ashfield wish you a Merry Christmas and a very happy New Year! We look forward to seeing you and your family in the store.